Daily, from 06/13/2022 to 06/17/2022, 9:30am - 12:30pm
Monumental Vacation Bible School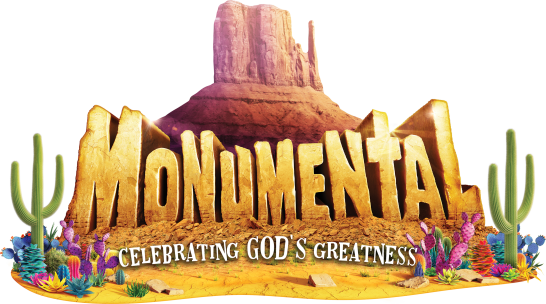 Get ready for a monumental Southwest adventure!
Vacation Bible School (VBS) is an opportunity for children, ages 4 through those going into 6th grade, to learn about Jesus in a very fun and engaging environment. Each day at Monumental VBS, kids will travel through field-tested rotations that reinforce relevant Bible Points and immerse kids in new adventures.
VBS is held onsite daily at Faith Community UMC:
Monday, June 13 – Friday, June 17

9:30 am – 12:30 pm

VBS Registration
We are ready to go for Monumental VBS. We are unable to take any more registrations for this year, but please continue to look at our website and Facebook page for other great family opportunities.
Volunteer to Help!
Join our VBS team this summer and help children learn about the love of Jesus! We have many different areas where you can serve at VBS … from helping with food or crafts, to leading a small group of kids through all of the great VBS stations. Wherever you serve, you will make new friends and form lasting bonds with adults and kids alike! If interested, please click the button below:

All VBS volunteers are required to attend a VBS training for the safety of our participants as well as our volunteers. There are three sessions to choose from:
- Saturday, June 4, 9am-10am
- Sunday, June 5, 7pm-8pm
- Sunday, June 12, 7pm-8pm
Please plan now which one you will attend as a volunteer. Thank you! Contact: Misty Oldfield
VBS Crafts and Decorations
If you like creating crafts and decorations, we have four dates on the calendar as work days to make various items to decorate our church for "Monumental" VBS. On these Saturdays, come and go as you please and join others at pre-prepped table crafts, or help with building the larger set for the stage. Small groups are encouraged to meet and create together! Work times are 9:00 am - 1:00 pm on these Saturdays:
If you are interested in helping out, please email Kelly at